The shipping industry has been undergoing swift evolution over the past 10 years, which has changed previous industry shipping and delivery predictions. Shipping times are getting shorter; smart shipping technology is transforming logistics processes. With these advancements, the delivery sector has been ramping up with new strategies to reach more customers, faster.
Making predictions about the future of delivery is challenging considering that in 2020, COVID-19 drastically accelerated the flow of change. Early on, it caused disruption that broke down supply chains and destroyed the forecasted flow. The pandemic created conditions that led to rapid adaptation and placed new pressures on a sector already facing mounting customer expectations. This highlighted the importance of a resilient and fully functioning supply chain.
Shipping operators have played an important role in responding to the pandemic: transporting goods from manufacturers and retailers, reaching customers who are shopping from home and even supporting medical supply chains. As we continue to navigate the pandemic, the shipping and delivery industry will be instrumental in helping businesses achieve resiliency, mitigate risk and meet rising demand.
What's ahead for the delivery sector? Here are our delivery predictions:
Delivery prediction: The e-commerce boom will keep shifting how and where deliveries happen
One of the major impacts of COVID-19 on businesses was the shift to e-commerce sales. With mandated closures or restrictions for non-essential businesses, many launched online platforms and expanded delivery options.
Just how much e-commerce growth was there? By the end of March 2020, there had been 10 years of e-commerce growth in the first 90 days. What were people buying? Last year saw an increase in the purpose of larger items that people needed to make their homes more comfortable during stay-at-home orders. Electronics, appliances, sporting equipment, books and music all spiked in demand.
Learn how to properly ship high-tech equipment.
Read article
This created a challenge for shipping operators to manage more oversized and heavy objects, alongside the increased volume of orders. With the likelihood that stay-at-home orders will continue this year, shipping providers will have to make thoughtful investments to innovate how they deliver. This adaption includes expanding fleet, network capacity and putting fulfilment centres closer to their customers. The location of these warehouses and fulfilment centres will have to keep in mind that many people moved out of major cities and into more affordable suburban and rural areas in 2020.
Retailers will strengthen omnichannel and flexible delivery offerings
Another delivery prediction is the inclusion of shipping partners in omnichannel strategies. Shipping trends point to the importance of a holistic omnichannel strategy as a crucial component to resiliency and satisfying consumer expectations. Consumers want a consistent experience no matter where they interact with stores – in-person, on desktop or mobile. And they want a customized experience throughout the process, including delivery.
It's also more important than ever to make sure that experience is relevant and receptive to your customer. Provide localized information that's up-to-date. If stores in a particular area have to close, for example, offer information on their options for receiving their orders and getting customer support.
As for the delivery process, COVID-19 encouraged increased flexibility in how customers receive their packages, starting with buying online or over the phone. Providing choices for delivery options, such as home or work addresses or curbside pick-up, will be key for an omnichannel strategy that covers the entire buyer journey.

Learn how to create and execute an omnichannel strategy.
Download ebook
Automation will play a larger role in improving operational efficiency
Automation has already been growing in its role in the optimization and streamlining of supply chains and logistics. Functionally, it removes the silos between operations (such as shipments, warehousing, procurement and inventory) and allows them to be handled in a centralized process.
Automation has not only helped supply chains adapt to the pandemic, but there are innovative uses that have been emerging as well. While it once seemed futuristic, it's becoming more common to find robots on assembly lines and in the delivery process. Automated assembly lines can also help take the human error out of fulfillment, preventing delays early on in the delivery process to support time-sensitive shipping.
Robots are already being added to some large e-commerce assembly lines, supported by humans, to increase efficiency and productivity. Ocado, an online grocery store based in Britain, has developed an automated order system that processes around 80,000 orders every week per distribution centre. The company has seen tremendous growth, as customers are increasingly doing their grocery shopping online. Ocado uses automated robots – supervised by humans – to assemble orders, as well as organize and maintain their large inventory to help increase efficiency and their scale of operation. This increasing use of automation will continue to help create efficiencies and reduce labour costs and error.
Learn more about what's driving shipping industry trends.
Read article
Safe and contactless deliveries will continue to be top-of-mind
COVID-19 has put the need for social distancing top-of-mind. Shipping and delivery trends point to this method of delivery to continue to some degree throughout this year. Safety is as important in warehouses and on the assembly line floor, as it is during deliveries.
Warehouses typically require hundreds of people working in close proximity. Solving this challenge is another area where automation can help. The use of devices, such as robots or drones, can reduce the number of human workers in any given space and provide contactless handling and shipment – all while optimizing processes.
We're seeing automation support safe and contactless delivery experiences as well. Self-driving vehicles were gaining traction before the pandemic and have even more applicability now. Loblaw Companies Ltd. is launching its first autonomous delivery service in Canada this year, with a focus on moving goods over short distances on fixed routes across Toronto.
Purolator has also initiated a series of delivery innovations, both to respond to pandemic needs and to shape the future of the shipping industry. These include the launch of our first Quick Stop Kiosk in 2019, which has now expanded to 12 locations across Canada. These self-serve stations create quick and contactless experiences for consumers to easily ship packages.
The benefits of autonomous vehicles and related technology investments will be seen long after social distancing protocols end, as they also create efficiencies, improve flexibility and help fulfil larger order volumes.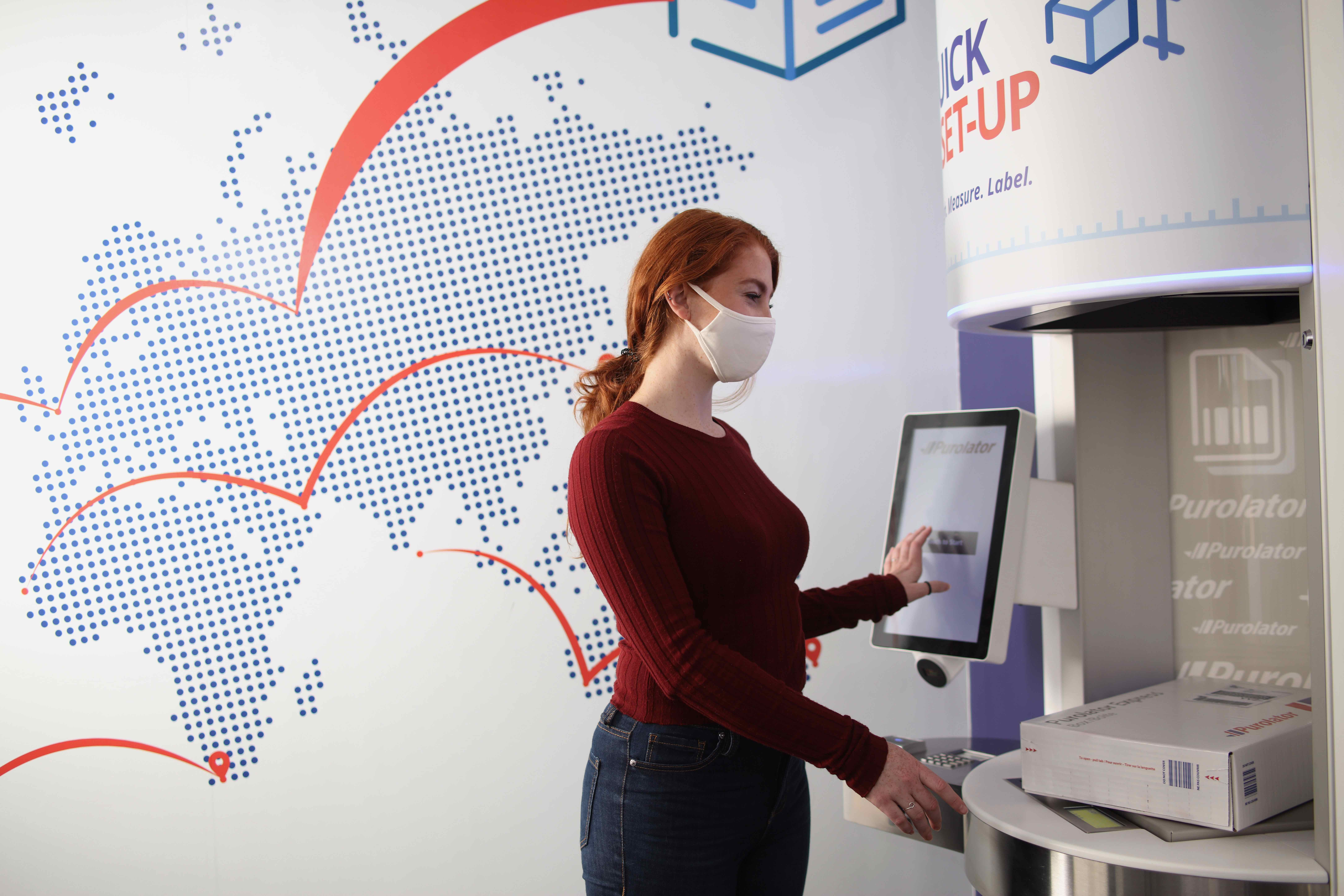 Analytics and tracking for end-to-end visibility will be more important than ever
These days, it's not unusual to get a warning of potential shipping delays. It's not surprising given the higher volume of shipments that fulfillment companies have to contend with. In 2020, 87% of Canadian internet users made online purchases. Especially in light of the uncertainty, customers want to be able to get information on exactly when and where their deliveries are expected to arrive.
One of the ways visibility is being enhanced is through the Internet of Things (IoT). IoT connected devices track a package along its journey, providing updates and allowing customers to know exactly when to expect their delivery. It's also beneficial to the businesses, too – real-time updates help to monitor fuel costs, oversee diagnostics and keep track of delivery drivers' performance for increased safety. As the shipping industry moves forward, tracking information is only going to get more sophisticated, accurate and accessible.
Cross-border shipping will become seamless
As more people took their shopping online last year, that meant customers were shopping across borders. In 2020, U.S. exports to Canada rose to USD $360.4 billion (from $3 billion in 2019) and Canadian imports into the U.S. reached $358 billion (from $320 billion in 2019).
Getting these orders delivered quickly and efficiently is key to a positive customer experience. So cross-border shipping will have to become more sophisticated. One of the ways manufacturers and retailers can streamline border crossing is through knowledge and preparation in meeting the USMCA agreement regulatory requirements. Making sure shipments arrive at the border ready for clearance goes a long way towards avoiding long processing times. Once across the border, using a shipping partner with an extensive network ensures your shipments arrive swiftly to their destination.
Freight shipping will continue to become more competitive
When talking about shipping trends, we can't forget about freight. There's substantial demand for bulk shipping offered by freight operators. Freight shipping performs an important role in transporting consumer goods between manufacturers, wholesalers and retail outlets. Competition in this sector has been increasing in recent years, and operators will have to contend with increasing competition in years to come.
What's causing this pressure? The freight industry has experienced both an influx of new participants in the market and the consolidation of some of these smaller companies into larger ones. These mergers allow large companies to reach new markets or expand their service offerings to gain a competitive advantage. In order to rise to the occasion, freight operators will have to keep evolving, differentiating and offering competitive pricing and services.
The good news is, the industry continues to benefit from increased trade activity and various logistics trends. Freight's industry value add (IVA) is forecast to grow at an annualized rate of 2.0% over the 10 years to 2024, keeping pace with Canada's projected GDP growth rate of 1.7% in that same period. When it comes to logistics trends, services like just-in-time (J.I.T) inventory management mean revenue opportunities, as manufacturers and retailers require smaller, more frequent deliveries.
Storage and packaging considerations will be key to delivery success
Another area of shipping logistics that's shifting is how shipments are stored and packaged. In order to provide a faster and more efficient delivery experience, manufacturers and retailers are looking to shipping operators that can provide more localized storage options. Creative solutions are emerging, such as turning empty mall department stores (dark stores) into storage and fulfillment centers. On-demand and localized warehousing will continue to evolve to meet the standards of time-sensitive delivery.
It's important to think about where packages are being stored, but also how. In light of the medical industry's urgent need for medical supplies logistics, with the transportation of vaccines a top priority, operators also have to find solutions for the transportation of goods that require special packaging, such as refrigeration. Keeping these high-demand items, like PPE and medicines, stocked and available on the local level is a challenge that supply chains will have to meet.
Delivery Predictions: Prepare for the future of delivery
The shipping and delivery industry is rapidly changing in response to customer demands and necessary adaptations brought on by COVID-19. Delivery predictions may continue to fluctuate as we continue to adapt to changes needed to protect against COVID-19. The first step, however, in preparing for the future of smart shipping is having the knowledge of what's being developed to improve the way we deliver goods. And while we can't entirely predict the future, having an insight into the latest shipping and delivery trends will help anticipate (and meet) the forecasted delivery expectations.
Choose a shipping partner that's ready for the future of delivery.
Contact us